In the past, you could replace your IMM 1000 or IMM 5688 or IMM 5292 with an original or certified true copy if it was lost. However, as of August 27, 2012, Immigration Refugees and Citizenship Canada (IRCC, formerly CIC) now issues an electronic document called a Verification of Status (VOS) instead of replacing your Record of Landing or Confirmation of Permanent Residence. It has all of the same information and can be used as proof of status in certain situations, but takes much less time to be issued.
If you have lost your original or the certified true copy of your IMM1000, IMM 5292 or IMM 5688 you may apply for a Verification of Status document as a replacement for proof of when you immigrated to Canada. If you do not have proof of when you arrived in Canada, you may be denied government benefits such as Old Age Pension, regardless of how long you have been a Canadian citizen or permanent resident.
If you need evidence of when you first entered Canada to live, work, or study, you can apply to obtain a Verification of Status document. Even people who were Canadian citizens at the time of entry, or people who never became permanent residents, can obtain this document under most circumstances.
Please note: they are normally emailed and are therefore "soft copies" – electronic documents (PDFs). Normally, you will not be issued a hard copy of a VOS unless you do not have an email address.
What information is contained in my Verification of Status?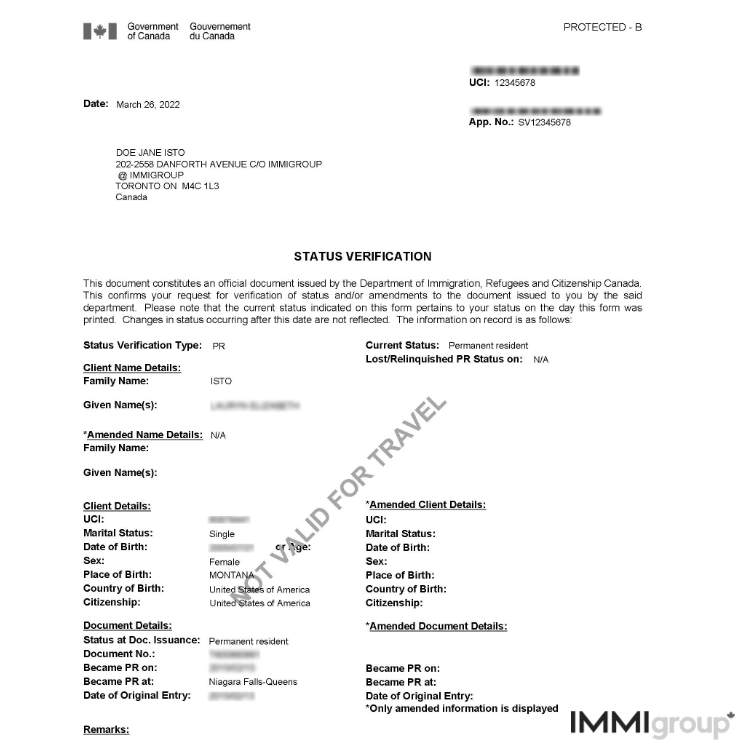 The information below applies to Verifications of Status for current and former permanent residents and naturalized citizens. It does not apply to a VOS issued for a temporary resident.
Your Verification of Status contains the following information:
At the top of the letter, above the "Status Verification" heading, the letter includes:
the date the VOS was issued, which is important to demonstrate that you have met the residency requirements for permanent residency, for example, or whether your temporary resident status is valid;
below the date is your mailing address or the mailing address of your representative
your Unique Client Identifier (UCI) is on the right side of the VOS
below your UCI is your application number.
The most prominent feature of the document is usually the bold text in the centre of the top third of the page, which says "Status Verification." Below this text is a paragraph explaining the purpose of the document. For example, here is a text from a VOS issued in January 2016:
This document constitutes an official document issued by the Department of Citizenship and Immigration Canada. This confirms your request for verification of status and/or amendments to the document issued to you by the said department. Please note that the current status indicated on this form refers to your status on the day this form was printed. Changes in status occurring after this date are not reflected. The information on record is as follows:
Following this paragraph, there is vital information about your status:
Status Verification Type – this is what the document confirms, usually permanent residence
Current Status – the most important part of the document, your status at the time of the issuance of the document, such as permanent resident or citizen
Lost/Relinquished PR Status on – unless you lost your PR status, this should say "N/A"
Client Name Details – states your name as it is on record at IRCC
Amended Family Name details – this is only completed if you have changed your name with IRCC
Client Details – your personal details and your UCI
Amended Client Details – this is only completed if you have submitted an amendment request
Document Details – this information relates to your original landing paper (IMM 100 or COPR) that the VOS is replacing
Amended Document Details – this information is only filled in if you had to amend some detail of the original document
Remarks – if there is some kind of note from IRCC, you would find it here, but it is not normal for this to be completed.
The above takes up most of the VOS. The bottom of the VOS contains the document number, your Date of Birth and the form number.
How Long does it take to Get a VOS Document?
As of April 2022, the processing time for a Verification of Status application is around 6 months. IRCC lists the time as 26 weeks, so be sure you apply in time if you need a VOS for something like an OAS pension.
While a Record of Landing or COPR can sometimes be used for proof of status, there are a number of other immigration documents you can use, like a Permanent Resident Card, or a valid Work or Study permit if you are temporarily in Canada.
How do I Apply Online for Verification of Status?
You cannot apply online for a VOS document. You must apply on paper and send your application with all supporting documents and a receipt of your fees to the following if sent by Canada Post:
Verification of Status (VOS) or Replacement of an Immigration Document
Operations Support Centre (OSC)
P.O. Box 8784 STN T CSC
Ottawa, Ontario K1G 5J3
Or the following address if sent by private courier or registered mail:
Verification of Status (VOS) or Replacement of an Immigration Document
Operations Support Centre (OSC)
365 Laurier Avenue West,
Ottawa, Ontario K1A 1L1
Tip: Full government contact information can be found here.
If your application requires urgent processing, send it by registered mail and write "Urgent" on the front of the envelope.